Best practices to Deliver On-Site Messages?
On-Site messaging is an often overseen marketing technique that helps to
Drive conversions
Increase user engagement
Improve user compliance
The reason it is powerful is because a marketer may very precisely target the messaging while there is recency when users browse your website:
For on-site messaging almost the same rules apply as for any email campaign:
Users are segmented based on their position in the conversion funnel
Messages should be relevant (encouraging, helpful, etc) to engage users
Many marketing tools and services use on-site messaging:
Conversational marketing tools
Abandoned cart solutions
Cross sell widgets
User personalization platforms
(...)
In this post I would like to address best practices and pitfalls for all of these tools by discussing on-site messaging in general. More specifically, let us look at how and where to deliver on-site messages.
HOW to Deliver On-Site Messages?
This is about the message's tone when approaching users on your website. On-Site messages are best accepted if they are:
Helpful
Encouraging
Personal
Recent
Value bringing
Let us discuss each of these points below.
Helpful Messages
A visitor lands on your website, browses a few products, adds some items to the cart and vanishes. Sounds familiar?
As a study by the Baymard Institute suggests, two out of three carts are abandoned. Helpful notifications help to minimize this customer drain.
The idea behind helpful messaging is to gently and individually nudge users to reach the next step in your conversion funnel. Users should get a clear direction, so they don't feel helpless:
Plus: Helpful messages might also help you to reduce customer support costs. Let us take a look at this supportive messaging example from IKEA wrapping a tempting upsell offer:
Encouraging Messages
We all need an encouraging tap on our shoulder sometimes, and so do your users:
Did your customers add an item that is nearly out of stock? Congratulate them on the lucky potential purchase.
Did they perform a specific action on the website which made them eligible for a discount coupon? Let them know.
Avoid focussing on negative aspects (laying on the guilt for leaving your website or abandoning a cart) which might harm the user's tolerance and compliance. Also note encouraging messages are often less informational and more transactional than their helpful counterparts.
Sending notifications in an encouraging manner can lead to a strengthened brand loyalty and better conversion rates:
Personal Messages
Users are three times more likely to respond to a notification that directly affects them, as opposed to a notification targeting a general audience.
Personal messages pick up the user's current state helping to strengthen identification. To roll them out, it is necessary in most cases to rely on data to distinguish users via user segmentation.
And users do favor personalized on-site messages:
"A special offer based on my preferences" was the most preferred push notification type in 2015. Simply match the products your customer has purchased or reviewed to create a more personal address.
When Localytics asked users which type of push notifications they preferred the most, 34% responded with "a special offer based on my location":
You may for example simply remind your users their geolocation is eligible for free or discounted shipping:
This type of notification is specifically useful, because 35.7% of all cart abandonments occur due to non-compliant shipping costs.
Real-Time Messages (Recent Messages)
Many marketers report real-time marketing helps them to increase customer satisfaction. But marketers also struggle to personalize content in real-time.
Real-time messages help you to interact with your users focussing on recency. This relates to any kind of recent events within the customer-business-relationship. You may react to certain user actions but also roll out recent offers based on your current business or stock situation to create urgency:
Booking websites (hotels, events, travel, etc.) are a perfect fit for this message type, but also other verticals use this method to drive conversions:
The idea of potential loss motivates us more than the idea of potential gain. We crave the opportunities that are closing in. This is also referred to as FOMO (Fear Of Missing Out). Rely on this psychological principle when writing your notifications copy.
Value Bringing Messages
On-Site messages may also just bring direct value to your users in form of a discount or an offer:
This "conservative" messaging method might not appear to be the most exciting one, but at least some users will always approve and appreciate discounts, cross sell and up sell offers.
French Connection clearly took this idea to the next level. Their overlay message combines:
Value (40% off)
Recency (valid today only)
Personalization (if users close the message they can choose from three options)
WHERE to Deliver On-Site Messages?
After discussing the messaging content, let us take a look at where to place messages on your website and the pros and cons of each placement.
Do's and Don'ts of On-Site Messaging Placement
When done incorrectly, overlay messages
Annoy users
Compromise the user experience
Fail to convert users
When done right, overlay messages can help to
engage with your users
drive conversions
build subscribers lists
Keep in mind:
Do not disrupt your user's journey
Always offer an exit modal
If you are determined to place a pop-up that needs a dismissal, think of it as your last resort.
On-site messages also should never cover any website inconsistencies and flaws. Exit-intent overlay messages can be your safety net to reduce cart abandonment, but if your conversion funnel makes it hard for all users to convert, you should act on these hurdles first.
Let us discuss some typical on-site message positions now:
Sticky messages
Embedded messages
Push messages
Sticky Messages
Sticky overlay messages are less interruptive compared to other (pop-up) messaging types and may perfectly convey your message. The visitor journey continues regardless of the message being placed at the top, bottom, right or left helping to keep your page content the main priority.
Please make sure a sticky message is not interfering with the page content. In this case you might want to chose another position.
The message density on the page should remain low at around 15% in order to not be distractive. Also don't forget to add a dismiss button to your messages, no matter how non-interruptive they seem to appear to you.
Embedded Messages
Embedded messages seamlessly blend into the page and are very unobtrusive:
An embedded message looks and feels like a native part of your website. You still might want to go for contrasting colors when designing it to create a more eye-grabbing experience.
Do not opt for this type of messaging when it comes to valuable time-sensitive offers. Since the message embeds within your page when the user browses it, the absence of a noticeable change may cause the message to be missed.
Push Messages
A push message pushes the message content down or up or sideways depending on its position using the webpage as a canvas. Once the message is dismissed, a timeout is reached or a user does another action, the message slides back and vanishes.
Because of the F-shaped reading pattern, many users favor push messages positioned at the top. Especially if a message is highly relevant to the user a top positioning is appropriate and advised.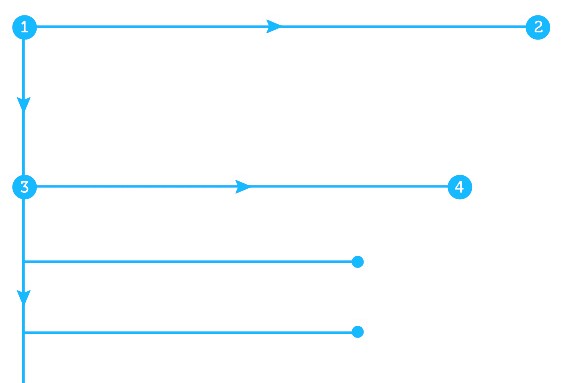 The F-Pattern is the most common eye-scanning pattern when browsing a website.
WHEN to Deliver On-Site Messages?
50% of all users browsing a website find on-site messages irritating, while the other 50% tend to see them as helpful.
This bias leads to a dilemma: How to separate users who need a nudge via messaging from those who don't?
The majority of marketers hesitates to implement on-site messages because they are afraid of irritating their users, coming across as spammy or causing users to exit. At the same time they also miss out an opportunity.
To overcome this dilemma, you would need to harness large volumes of data to segment your users properly and only display messages to the right ones.
Machines can learn from past interactions and data, allowing marketers to help consumers not only with what they say they want, but to anticipate their future needs by connecting consumer interactions into one consistent and cross device stream of messaging.
A behavioral 360 user segmentation is based on data that may be retrieved from several sources:
| Site Behavior / Purchase Variables | Environment Variables | Referrer Variables | Temporal Variables | CRM Variables |
| --- | --- | --- | --- | --- |
| Customer/prospect | IP address | Referring Domain | Time of day | LTV data |
| New/ Return visitor | Country of origin | Campaign ID | Day of the week | Purchase History |
| Previous visit patterns | Time zone | Affiliate | Recency | AOV data |
| Previous product interests | Operating system | PPC | Frequency | |
| Searches | Browser type | Organic search | | |
| Previous online purchases | Screen resolution | | | |
| Previous campaign exposure | Device | | | |
| Revenue | | | | |
Armored with retroactive and predictive user profiles, the AI-enabled marketer may easily:
Predict each user's likelihood to perform any action
Specify a set of personalized messages to engage with each user
Automatically adapt individual user journeys in real time
Display message or offer at the right time
Boost Your Business Via Predictive Segmentation and Personalization
Target visitors based on their behaviour across channels while you still retain full control over your campaign.
If you are struggling with long customer journeys and fragmented visitor segments, this approach can be your tool to drive conversions.
Just be personal, in a smart way.
Want to see what all the fuss is about?
INTEGRATE & ORCHESTRATE CUSTOMER JOURNEYS
Pipelines, Audiences and Metrics Platformfor fast-growing companies